UDOT Cottonwood Canyon Pilot Sticker Program
Vehicles improperly equipped for winter driving conditions contribute to traffic congestion and crashes in the Cottonwood Canyons and surrounding areas. To Keep Utah Moving in the Cottonwood Canyons, UDOT implemented a pilot sticker program for the 2019-2020 winter season for resort employees and residents of Big and Little Cottonwood Canyons to help more drivers make sure their vehicles are ready for winter weather driving. For the 2020-2021 winter season, UDOT is expanded the program to the general public to help increase the number of vehicles entering the canyons with proper vehicle equipment.
The goal of this program is to pre-approve vehicles for winter driving conditions in order to decrease inspection times at the mouth of the canyons. UDOT anticipates that this will improve safety and mobility for canyon users during winter driving conditions.
UDOT Region 2 Maintenance and Operations and Unified Police Department (UPD) inspected vehicles to ensure they are compliant with snow tire and chain requirements under the Traction Law (UDOT Administrative Code R920-6). Vehicles that passed inspection were issued a sticker and during winter travel restrictions, will not need to be inspected at the mouth of the canyons when the Traction Law is in effect.
At this time, the sticker does not allow vehicles with the sticker to have priority in line, and may still be subject to inspection at the discretion of law enforcement. Having a sticker does not enable holders to enter the canyon during avalanche closures.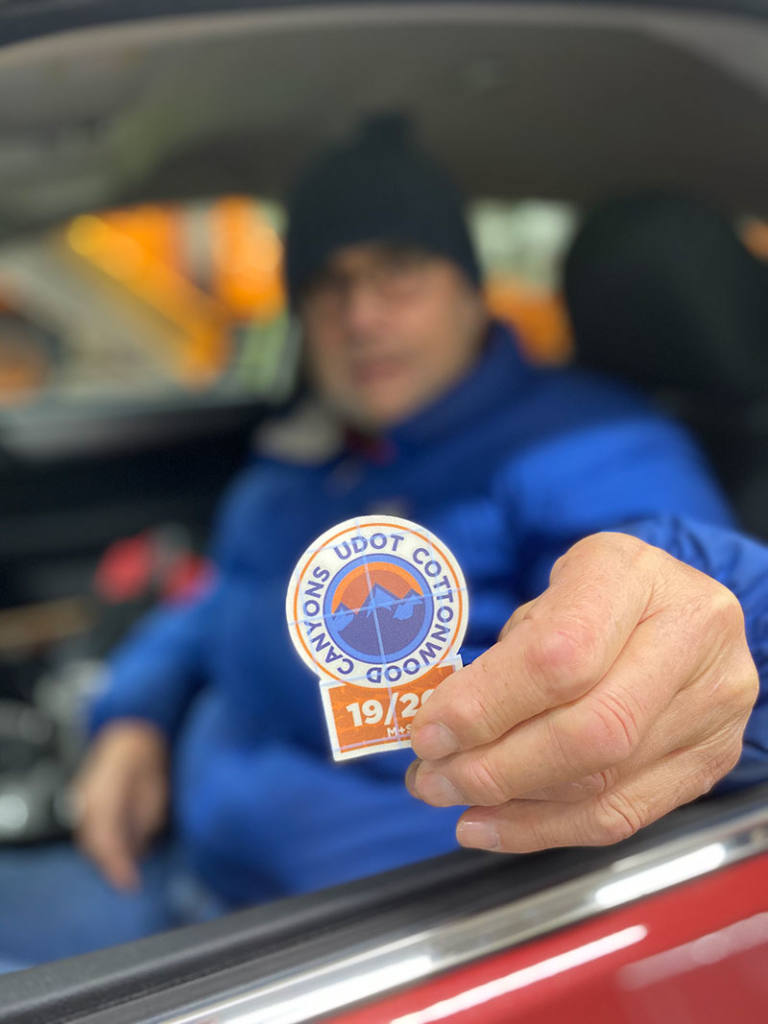 PILOT STICKER PROGRAM Frequently Asked Questions (FAQ)
How do I obtain a sticker?
Update / December 14, 2020: There will not be any future sticker distribution days. If you filled out the form and were not able to attend sticker distribution or were not able to fill out the form before it was turned off due to reaching the limit of form fill outs, UDOT and UPD will be handing out the unclaimed stickers to properly equipped vehicles during traction law inspections. We will make an announcement on the UDOT Cottonwoods social media channels when this is happening.
Inspect your vehicle and make sure it is properly equipped with traction devices for winter driving. These are the vehicle requirements for the pilot sticker program:

For 2WD vehicles, 3PMSF-rated tires must be mounted on all wheels OR you must show proof of traction devices in your vehicle (chains).
For AWD/4WD vehicles, 3PMSF-rated or M+S-rated tires must be mounted on all wheels.
ALL vehicles MUST have a tread depth of at least 5/32!
How many of my vehicles can I obtain a sticker for?
One vehicle permitted per driver – households with multiple vehicles will need to assign a primary driver to each stickered vehicle.
I participated in the sticker program last year. Does my 19/20 mean anything this year?
No. You will need to come to one of the inspection events this year so that UDOT/UPD can ensure that your vehicle is properly equipped for winter driving conditions during the 2020/21 season.
If I get a sticker, does that mean I will have priority in line to get up the canyons or enter the canyon during avalanche closures or restrictions?
No. Having a sticker does not allow the holder to bypass any traffic or enter the canyon during closures.