UDOT Cottonwood Canyons Sticker Program
October 20, 2022 - February 28, 2023
The UDOT Cottonwood Canyons sticker program is a winter safety, preparedness and education program specifically for the Cottonwood Canyons. The goal of this program is to increase vehicle safety and preparedness by pre-inspecting vehicle tires for winter driving conditions in advance of drivers traveling in the canyons.
The sticker program is free of charge, completely voluntary, and will run from October 20, 2022 to February 28, 2023. Stickers are NOT REQUIRED to drive Big or Little Cottonwood Canyon. If a vehicle's tires/traction devices meet the requirements, a sticker is placed on the windshield as a way of recognizing that the vehicle has proper traction devices for traveling in the canyons when the Traction Law is in effect.
To reduce the number of vehicles traveling in the canyons during severe winter weather conditions, UDOT encourages all visitors to carpool in a properly equipped vehicle, utilize public transit or shuttle services or delay travel until road conditions improve.
For more information on public transit service to the Cottonwood Canyons, visit the UTA website.
TravelWise to find others to carpool or vanpool with.
Sign Up for the Sticker Program
UDOT is partnering with Big O Tires, Burt Brothers Tire & Service and CJ's Pit Stop to provide several inspection locations throughout the Wasatch Front.
Prior to visiting one of the participating sticker inspection locations, participants MUST fill out the digital form posted on the UDOT Cottonwood Canyons website associated with the tire shop they plan to visit.
Once you fill out the form, you will receive a confirmation email. Please keep this for your records.
After filling out the form, contact the tire shop you want to visit for sticker inspection and let them know you have filled out the sticker program form and will be visiting for a tire inspection.
Please fill out the form with ACCURATE INFORMATION AND WITH THE CORRECT SPELLING (name, email, phone number) so that the tire shop employee can find you on the form during the inspection process. Ensuring that your information is accurate helps maintain an efficient inspection process for all participants.
If you have multiple vehicles, please fill out the form one time for each vehicle. You may use the same email address, but you should let the inspector know that you have multiple vehicles under the same email address.
PARTICIPATING TIRE INSPECTION LOCATIONS


Burt Brothers Bountiful
2885 US-89, 84010
385-243-1098
Burt Brothers Cottonwood
4712 S Highland Dr., 84117
801-713-1379
Burt Brothers Downtown SLC
204 E 300 S, 84111
801-363-6741
Burt Brothers Draper
263 E 12300 S, 84020
801-553-3434
Burt Brothers Farmington
976 W. Shepard Lane, 84025
801-451-4590
Burt Brothers Highland
10918 Town Center Blvd., 84003
801-492-6300
Burt Brothers Jeremy Ranch
2730 Rasmussen Rd, 84098
435-214-4507
Burt Brothers Layton
2020 W Antelope Drive, 84041
385-442-3700
Burt Brothers Riverton
13722 S Redwood Rd., 84065
801-253-4422
Burt Brothers Sandy
9325 S 1300 E, 84094
801-207-9227
Burt Brothers Silver Summit
6343 N Pace Frontage Rd., 84098
435-940-9154
Burt Brothers Sugar House
944 E 2100 S, 84106
801-758-7395
Burt Brothers West Jordan
1618 W 9000 S, 84088
801-285-0696

Bountiful
25 S 500 W
Bountiful, Utah 84010
Cottonwood
4546 S 900 E
Salt Lake City, Utah 84117
Draper
1022 E Draper Parkway
Draper, Utah 84020
Fort Union
2284 Fort Union Blvd.
Salt Lake City, Utah 84121
Herriman
4689 W 12600 S
Riverton, Utah 84065
Kaysville
320 N Main St,
Kaysville, UT 84037
Kearns
3725 W 5400 S
Kearns, Utah 84118
Millcreek
4546 S 900 E
Salt Lake City, Utah 84117
Murray
4745 S State Street
Murray, Utah 84107
Riverton
2158 W 12600 S
Riverton, Utah 84065
Salt Lake City
178 E South Temple
Salt Lake City, Utah 84111
Salt Lake City (9th)
924 S 300 W
Salt Lake City, Utah 84101
Salt Lake City (Highland)
3120 S Highland Dr
Salt Lake City, Utah 84106
Salt Lake City (Olympus)
2002 E 330 S
Salt Lake City, Utah 84109
Sandy
8835 S 700
Sandy, Utah 84070
South Jordan
10227 S Redwood Rd
South Jordan, Utah 84095
Tooele
855 N Main St
Tooele, Utah 84074
West Jordan
3176 W 7800
West Jordan, Utah 84107
West Valley City
3557 S 5600 W
West Valley City, Utah 84120
West Valley City
2830 W 3500 S
West Valley City, Utah 84088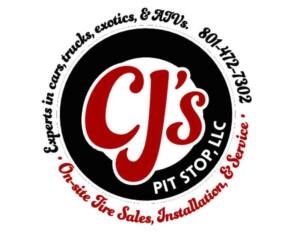 CJ's Pit Stop is a mobile tire shop that will come to you for sticker program tire inspection. Inspections are by appointment only.