UDOT TRACTION LAW //
What is the "Traction Law" and what are "Traction Devices"?
The Traction Law is Utah's administrative rule (R20-6) that the Utah Department of Transportation (UDOT) and law enforcement implements during severe winter driving conditions. It is important to ensure that you have traction devices appropriate for winter driving conditions, snow-worthy tires or chains are not just for your safety, it is the rule of the road. Traction devices are required during severe winter weather conditions on roadways throughout Utah, including Big and Little Cottonwood Canyons.
AWD/4WD: M + S or M/S tires is the minimum requirement. Traction devices such as chains or 3 peak mountain snowflake (3PMSF) tires are also acceptable.
2WD: 3 peak mountain snowflake (3PMSF) tires (on all four tires) is the minimum requirement. Traction devices such as chains are also acceptable.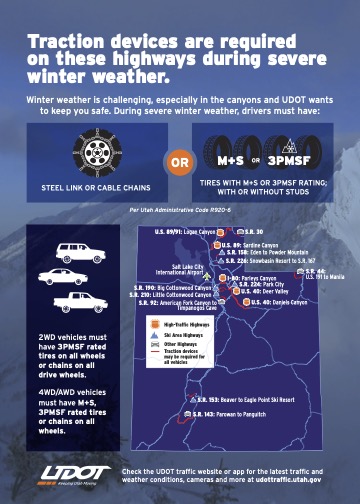 TRACTION LAW FREQUENTLY ASKED QUESTIONS
What is the actual rule?The current Utah Administrative rule (Rule R920-6. Traction Device/Tire Chain Requirements) states that the Traction Law goes into effect when road conditions warrant, a decision made by UPD or UDOT. Per Utah code, 2/32 is the minimum tire tread depth needed for all roadways.You know it's going to snow, why aren't you requiring traction devices in the morning before people go up?It's important to note that under the existing rule, requiring traction devices is based on current road conditions, not predicted conditions. When chains are installed and drive on dry roads, it can damage both the vehicles and the roadway. Having chains on when the roads are dry also makes it difficult for drivers to steer and travel at posted speed limits.Why isn't someone at the mouth every single time the Traction Law is in effect?UDOT and UPD have to balance available resources and operational needs. Both agencies need to respond to in-canyon incidents and also have coverage areas beyond the canyons. UDOT and UPD reassess conditions and are actively assisting travelers throughout the day, regardless of conditions. Coordination is ongoing among these agencies to address staffing/resources to enable more frequent tire checks at the base.So who is actually causing all these slide offs? I see an awful lot of 2WD vehicles with out of state plates heading up the canyons.It's true, plenty of out of state 2WD cars without traction devices make it up the canyons and slide off. However, many vehicles involved in slide offs or crashes are Utah residents who have met the criteria of the Traction Law and would have been allowed up. Poor tire tread for snow, driver difficulty in navigating winter conditions and speed also contribute to slide offs/cashes. It is critical that all travelers (even the locals) have confidence in their winter driving abilities. If you don't, we recommend trying out the ski bus instead of white-knuckling it.What are 3PMSF tires?3PMSF tires meet more stringent winter traction performance requirements and have been rated for "severe snow service."
These tires perform better than all-season tire on snowy, slippery roads and low temperature or freezing roads. This is accomplished by a different rubber compound that provides more grip on snow and on cold pavement than an all-season tire.What are M+S tires?When a tire has M+S on it, that means that it meets the Rubber Manufacturers Association (RMA) guidelines for a mud and snow tire. Tires with the M+S symbol continue to be the broader definition for the minimum acceptable levels of winter traction.
The M+S rating means that a tire has better mud/snow traction than a summer tire, but the rating doesn't reflect traction for wet, soupy mud, slush, ice, fresh snow or even cold, dry pavement. Most all-season tires do not qualify for the 3PMSF symbol because the tread rubber in all-season and summer tires become hard at temperatures below 40 F.So what good were the stickers you handed out at the beginning of the season?The stickers we gave out this year mean that there are at least 5,000 vehicles properly equipped for driving in the canyons when traction devices are required. Additionally, when Traction Law is being enforced, vehicles with stickers move through these checkpoints quickly and help the overall flow of traffic.
Previous
Next
WINTER DRIVING TIPS
UDOT wants you to stay safe on the roads this winter. By following these tips and advice, you'll be ready for winter driving. And don't forget: Ice and Snow, Take it Slow!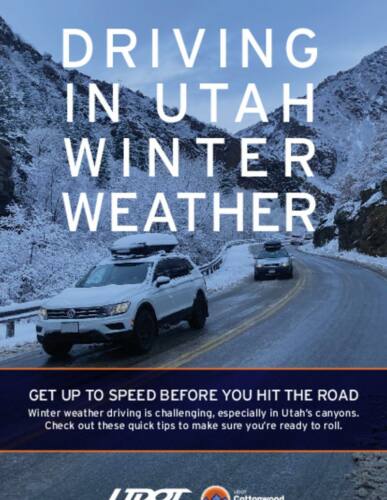 View Winter Driving Brochure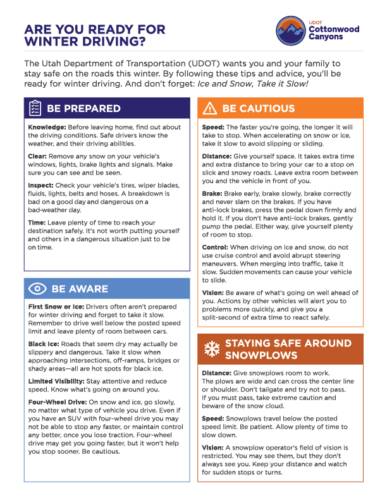 View Winter Driving Tips

RENTING A VEHICLE FOR WINTER WEATHER DRIVING
Winter weather driving is challenging, especially in the Cottonwood Canyons (SR-190, SR-210). If you are visiting from out-of-town and renting a vehicle, check with the rental company to verify that your vehicle is equipped with four-wheel drive (4WD) or all-wheel drive (AWD) and the correct tires.
UDOT has partnered with Enterprise Rent-A-Car, Alamo, National and Budget out of the Salt Lake City Airport as well as Rugged Rental and Go Rentals for the UDOT Cottonwood Canyons Sticker Program to pre-inspect rental vehicle tires for the 2022/23 season.
If you choose one of these companies to rent a vehicle during your visit to Utah, look for a vehicle with a sticker on the inside of the front windshield – this is a vehicle that has been pre-inspected and meets Utah's traction law requirements.